We Dispel The Common Myths About Wood Heating & Measure It Against The Alternatives.
Grand Designs Australia Magazine. Issue 4.3
April Ossington. May 2016.
Wood heaters have received a bad rap in the past with concerns about air pollution, their lack of energy efficiency and their carbon footprint, but new research has painted this traditional form of heating in a new light.
"BASIX's favourable new rating for woodburning heaters now sees them as the preferred, cost-effective solution for making a new building 'compliant'," says Aaron Budai, general manager of Jetmaster Fireplaces.
The New South Wales government's Building Sustainability Index (BASIX) is a scheme aimed at regulating the energy efficiency of residential buildings. All new dwellings and renovations that cost more than $50,000 must obtain
a BASIX certificate before they can be approved by council.
The online assessment tool checks elements of a proposed design against sustainability targets, which, in the case of home heating, is measured by its contribution to greenhouse gas emissions. Recent research conducted by the CSIRO has found firewood produces less greenhouse gas than all other domestic heating options. "Wood heaters now achieve a superior
score to alternate domestic heating options including 5 Star gas heaters, 6 Star reverse-cycle air-conditioners and even ground-source heat pumps," says Aaron. Joel Belnick from Jetmaster Fireplaces explains that as the carbon released from
burning wood is absorbed when a tree grows, wood is recognised as a renewable energy."There is a natural carbon cycle that does not contribute to increasing carbon levels in the atmosphere," says Joel. However, unlike renewable energies such as wind and solar, there are particulates produced when wood burns. As a result, wood-burning fireplaces have to meet stringent Australian standards for particulate emissions and energy efficiency.
"Newly designed heaters are able to burn efficiently and cleanly if operated correctly,"explains Joel. The contribution of particulates from domestic wood-burning fires is minute compared to naturally occurring particulates such as dusts, pollens and salts along with those created by bushfires and prescribed burns.
"Domestic wood-burning contributions are often measured with the maximum possible emission rates by EPA departments due to the fact some consumers will operate wood heaters badly," says Joel. "Tested emission rates of 3g per kg are often calculated at 10g per kg to try to duplicate real-life emissions. Studies indicate only 15 per cent of consumers operate heaters badly, not 100 per cent as measured by EPA departments. New technology in wood heating is making it easier for homeowners to burn wood correctly. Secondary air and ceramic baffles enable fires to burn smoke at the top of the firebox, providing a cleaner combustion when burning on a low setting. Some units incorporate timing mechanisms that will automatically shut the unit down after 20 minutes of burning on high."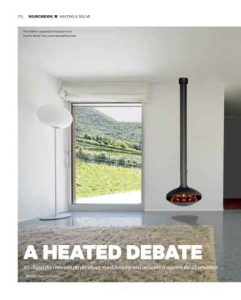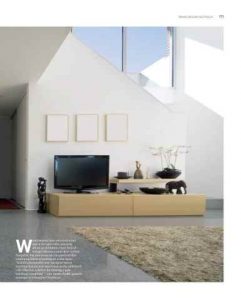 While this is great news for builders or renovators who enjoy the charm and ambience of an open fireplace, wood heating still has its pitfalls. Traditionally, wood heaters were more popular in rural and semi-rural areas due to greater access to wood and space for storage. In the past, councils had concerns about the impact of wood fires, but times are changing
and we are seeing an increase of wood fires in urban areas.
However, this type of heating may not be suitable for every home. As wood is generally available for purchase by the tonne or halftonne, Joel says storage may be an issue for smaller homes. "Wood heaters suit larger homes and are often sold into regional areas where wood can be available at a low cost," he says. If smoke is unable to dissipate without causing issues for neighbouring structures, some councils may object to wood heating being installed in low-lying, high-density areas.
Joel suggests chimneys should be high enough to avoid smoke being blown back down into residential buildings. Additionally, wood heating may not be suitable for a time-poor or elderly homeowner. Tech-savvy homeowners may seek an instantaneous solution for their homes rather than one that creates work. "Wood heating is an inconvenient means of heating as there is a certain amount of effort that goes into lighting a wood fire and continually feeding the fire," says Joel. "Gas and electricity can be easily turned on and off and can often be thermostatically controlled, allowing complete
ease of use."
NATURAL GAS
For those who seek the authentic look of a burning flame without the effort, gas heating can be a convenient and cost-effective solution for the modern home. "Gas heating can be thermostatically controlled, allowing you to set a temperature to ensure it remains constant," says Joel. "Although burning gas does contribute to greenhouse gas emissions, it doesn't produce visual particles to the extent of other fossil fuels such as coal, oil or wood."
There is a range of gas heaters on the market including portable or unflued heaters, flued indoor heaters and gas fireplaces. A popular choice in Australia, flueless space heaters can be easily installed by using a bayonet fitting, though
Joel offers a word of caution about this type of heating. "Flueless gas space heaters are not considered a healthy means of heating as the gasburning by-products are emitted into the room and don't escape," he says. "Carbon dioxide and water vapours accumulate in the room and are breathed in. As the oxygen in the room is used, it is mandatory to have permanent ventilation in the room when installing a flueless fire." The cost of this heating will depend on the type of gas that is used. "Natural gas or piped gas is a cost-effective way of heating," says Joel. As LPG or propane needs to be delivered in bottles,
it's a more expensive option. This means houses connected to natural gas are more suitable for gas heating, unless you have money to burn. Gas heating can also be energy efficient. "Gas is a controlled substance that has sophisticated
technology to burn very efficiently," says Joel. "Decorative gas fires have improved dramatically over the past 10 years due to ceramic fibre material being used to mould the logs or pebbles to provide a realistic-looking fire that glows and looks like it's burning. This material also provides effective radiant heat which replicates the working of wood fires."
For further information on the basix study visit: http://www.architectureanddesign.com.au/news/nsw-government-sets-lower-greenhouse-gas-emission