The Block 2018 living and dining reveal: Shannon Vos's fast five
SHANNON VOSS
SEP 09, 2018 8:14PM
There was no lounging around in living and dining week on The Block, and Shannon Vos is here to spill the goss.
Moving on from last week's master bedrooms, our teams fought tooth and nail to create the ultimate cosy and welcoming living and dining spaces in their apartments. Shannon Vos, the winner of The Block's Glasshouse season shares who came out on top, and who did not.
The biggest spaces in Block history are sure to leave their mark this week: on calloused hands, broken sleep, mental stability, and apartment three's marriage. With plenty of behind the scenes drama we've seen our teams pushed to the brink while creating their living rooms at The Gatwick.
This is The Block after all, and pushing all aspects of yourself, sometimes to breaking point, and sometimes way, way beyond is what makes for compelling TV. While Simon and I didn't really crack back during The Glasshouse we came certainly came close and it definitely wasn't easy. Any team who thought this week was going to be a breeze is in for a rude awakening. Let's see who got caught napping during living and dining week.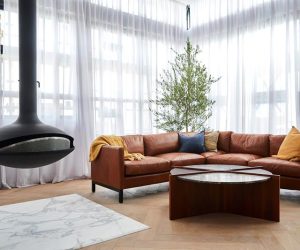 SURPRISE
Now call me a cynic, but self-confessed bogans, Norm and Jess who turn up to judging every week in ratty old thongs surely cannot pull something together like this? Their space is just drop dead gorgeous and that suspended fireplace is so damn spectacular!
Jess has made a few great choices in their living and dining space that really sets their room apart from the other cookie cutter and off-the-shelf furniture selections that other contestants had made. Their truly unique pieces will stand out when it comes time to sell. The Indigenous handcrafted fossilised stone coffee table from Manapan Furniture is out of this world, the bespoke sideboard with dark timber curved lines is totally unique and yes, that floating orb of a fireplace (which rotates, mind you) is one piece that will really get buyers excited.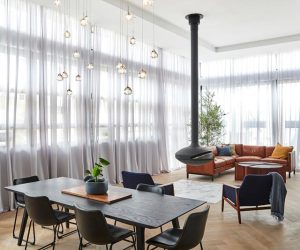 Though a few of their choices were questionable (I wasn't too wrapped with their dining table or the lights above), the artwork, the 50s-esque single chairs, and the lighting plan all work with the other pieces to give Norm and Jess a true fighting chance.
Read the full article by Shannon Vos here: https://www.homestolove.com.au/the-block-2018-room-reveal-living-dining-shannon-vos-18954